Was ist Musik
Wanna be black? R&B & weiter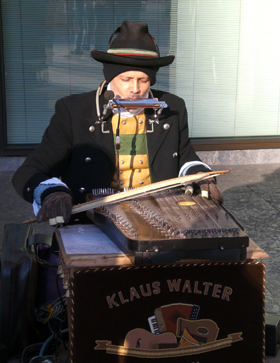 "Classism is the new racism. This is what black feels like." Mit diesen Worten flankiert Terius Youngdell Nash seinen Song "Black". Unter dem Namen The Dream ist Terius Youngdell Nash ein gefragter R&B und
HipHop
-Produzent. Mit "Black" reagierte The Dream auf die rassistischen Ausfällen von Donald Sterling, dem Besitzer des Basketball-Clubs Los Angeles Clippers. Der schwerreiche weiße Mann hatte seiner Frau vom Umgang mit schwarzen Spielern abgeraten, die Äußerung wurde öffentlich und zum Skandal. Dazu The Dream: "Black isn't just a color. Black isn't just a race anymore. It's a feeling and a place from which one feels isolated by the world of the governing elite. Classism is the new racism. This is what black feels like."
Nach dem Erfolg mit "Black" hat The Dream jetzt eine EP veröffentlicht, zum freien Download. Mit King Britt und Ghostface Killa gehen zwei Veteranen des R&B & HipHop neue Wege – beider Wege führen nach London, zu Hyperdub.
The Dream - Black
I feel real black right now
Real black right now
I never knew you like I should've known you
But my father spoke of you through that liquor
Can
we get a curtain call?
Let us pray your idea outlives you
Cause everywhere there's a Chicago
The only way we're getting out of here is if we hit the lotto
My mama left the incense burning on the dresser
A hard way to learn one lesson
She said never be impressed with a man with no message
And I'll never be Mr. Madiba
I'm gonna thank you the next time I see you
You got me feeling real black right now
Real black right now...
The oppression of a young Malcolm
And shots rang out across the balcony the day we lost a dream
To young to sing
Marvin Gaye
's "What's Going On"
Since then ain't been a lot going on
Enough pain can make a whole race bitter
They say the right amount of love can heal us
Reminiscing back when Hilfiger made us feel like niggas
And that's the kind of thing that sticks with you
I never
felt
this black...
Somebody take us home
Take me home
Let's go home
Let's go home
Weitere Ausgaben von Was ist Musik
Playlist
1.
The Dream / Outkast
Royalty – The Prequel / The Dream

…

2.
The Dream / Black / The Dream

…

3.
Shabbaz Palaces / New Black Wave
Lese Majesty / Sub Pop

…

4.
Shabbaz Palaces / Cake
Lese Majesty / Sub Pop

…

5.
Fhloston Paradigm / Never Defeated (Ft. Rachel Claudio)
The Phoenix / Hyperdub

…

6.
King Britt / The Reason (Bahamadia Edit)
The Reason / Ovum

…

7.
Fhloston Paradigm / The Phoenix
The Phoenix / Hyperdub

…

8.
Morgan Zarate / Sticks And Stones (Ft.Eska & Ghostface Killa)
Hyperdub 10.2 / Hyperdub

…

9.
Ghostface Killa / All That I Got Is You
Ironman / Columbia

…

10.
Rome Fortune / Lights Low
Lights Low / Lights Low

…

11.
Martyn / Glassbeadgames (With Four Tet)
The Air Between The Words / Ninja Tune

…

12.
Martyn / Love Of Pleasure (With Copeland)
The Air Between The Words / Ninja Tune

…