Was ist Musik Where did the party go?

(13.08.2017)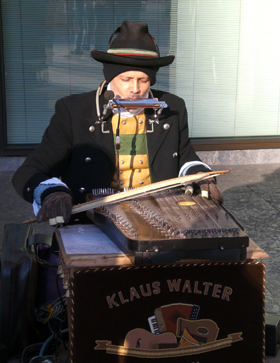 Ausgabe vom 13.08.2017: Where did the party go?
Hören
13. August: 56 Jahre nach dem Bau der Berliner Mauer (Niemand hat die Absicht, eine Mauer zu bauen.) liefern sich der Mann im Weißen Haus und der in Pjöngjang ein (noch) verbales Duell, das eine amerikanische Zeitung so kommentiert: "Is China now the adult in the room?"
"Where did the party go?", fragen Mr. Bird feat. Greg Blackman. Auch der Titel des neuen Albums der Gebrüder Teichmann klingt wenig ermutigend: "Lost on
Earth
". Und alle posten "Nuclear War" von Sun Ra. Also Starring: Wrongtom Meets The Ragga Twins, Waq Waq Kingdom, Gl. Harlev Organ Orchestra, Kelela …
Weitere Ausgaben von Was ist Musik
Playlist
1.
Mr.Bird Ft. Greg Blackman / Where Did The Party Go? (Ashley Beedle´S Stripped Back Mix)
Low-Fi Classics / BBE
2.
Nightmares On Wax / Now Is The Time (Ashley Beedle´S Warbox Dubplate Special)
Now Is The Time / Warp
3.
Mr.Bird Ft. Greg Blackman / Where Did The Party Go? (Ashley Beedle´S North Street Remix)
Low-Fi Classics / BBE
4.
The Floaters / Float On
Float On
5.
Mr.Bird Ft. Greg Blackman / Over Again (Tom Moulton Mix)
Low-Fi Classics / BBE
6.
Wrongtom Meets The Ragga Twins / Follow Fashion (Murder He Wrote Mix)
In Dub / Tru Thoughts
7.
Wrongtom Meets The Ragga Twins / Illegal Gunshot
In Dub / Tru Thoughts
8.
Waq Waq Kingdom / Oh It´S Good
Shinsekai / Jahtari
9.
Waq Waq Kingdom / I Would Like To Let You Go
Shinsekai / Jahtari
10.
Gl. HARLEV ORGAN ORCHESTRA / The Cotton And The Organ
THE ORGAN SESSIONS / Jahtari
11.
Gl. HARLEV ORGAN ORCHESTRA / Organ At The End Of A Robe
THE ORGAN SESSIONS / Jahtari
12.
Kelela / LMK
LMK / Warp
13.
Ballistic Brothers / Peckings
Peckings / Warp
14.
Cornershop / Sleep On The Left Side (Ashley Beedle Mix)
Sleep On The Left Side / Intercord