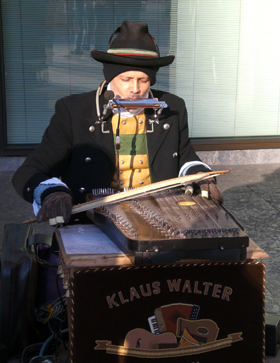 Ausgabe vom 29.07.2012: Im Bett mit Anthony
Klaus Walter befindet sich im wohlverdienten Urlaub, daher wiederholen wir an diesem Sonntag eine ältere Ausgabe von Was ist Musik.
Für heute haben wir - aus aktuellem Anlass - die Ausgabe "Im Bett mit Anthony" aus dem Jahr 2008 ausgesucht. Der New Yorker Musiker veröffentlicht im August ein neues Album namens "Cut the World". Dieses Album ist nur halbwegs wirklich neu - es beinhaltet bekannte Stücke von Anthony in neuen Versionen.
In dieser Ausgabe aber begibt sich Klaus Walter auf die Suche nach den musikalischen Wurzeln von Anthony Hegarty.
Starring:
Nina Simone
, Marc & The Mambas,
Björk
,
Joan As Police Woman
, Frankie Goes To Hollywood,
Arthur Russell
,
Rufus Wainwright
, Ezekiel Honig,
Velvet Underground
, Coco Rosie...
Weitere Ausgaben von Was ist Musik
Playlist
1.
Coco Rosie / God Has A Voice She Speaks To Me
God Has A Voice She Speaks To Me / Touch & Go

…

2.
Arthur Russell / Being It
World Of Echo / Rough Trade

…

3.
Coco Rosie Ft. Antony / Beautiful Boyz
Noah's Ark / Touch & Go

…

4.
Ezekiel Honig / A Brief Visual Pattern
Surfaces Of A Broken Marching Band / Anticipate

…

5.
Marc & The Mambas / Torment
Torment & Toreros / Some Bizzare

…

6.
Marc Almond Ft. Antony Hegarty / The Ballad Of The Sad Young Men
Stardom Road / Sequel

…

7.
Antony & The Jonsons / Shake That Devil
Another World / Rough Trade

…

8.
Culture Club / Do You Really Want To Hurt Me
Greatest Moments / Virgin

…

9.
Antony & The Jonsons Ft. Boy George / You Are My Sister
I Am A Bird Now / Secretly Canadian 105

…

10.
Frankie Goes To Hollywood / Relax
Relax / ZTT

…

11.
Yazoo / Situation (12 Version)
Dreams Come True / Domino

…

12.
Hercules & Love Affair / Blind
Hercules & Love Affair / EMI

…

Stunde 2 :
1.
Loose Joints / It´s All Over My Face
The Loft / Nuphonic

…

2.
Arthur Russell / This Is How We Walk On The Moon
Sleepwalk – A Selection By Optimo / Domino

…

3.
Björk / The Dull Flame Of Desire
Volta / Virgin

…

4.
Nina Simone / Baltimore
Blue Mood 2 / Sony

…

5.
Velvet Underground / Candy Says
Peel Slowly And See / Polydor

…

6.
Lou Reed Ft. Antony / Perfect Day
The Raven / WEA

…

7.
Antony & The Jonsons Ft. Lou Reed / Fistfull Of Love
I Am A Bird Now / Secretly Canadian 105

…

8.
Antony & The Jonsons Ft. Rufus Wainwright / What Can I Do
I Am A Bird Now / Secretly Canadian 105

…

9.
Joan As A Policewoman Ft. Antony / I Defy
Real Life / V2

…

10.
Antony / Knockin On Heavens Door
I´m Not There / Sony

…

11.
Antony & The Johnsons / Cut The World
Cut The World / Beggars

…