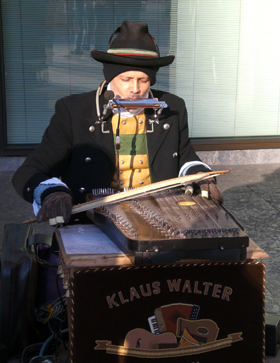 Ausgabe vom 12.08.2012: BASSmusik
Hören
Low
End Theories – Was ist BASSmusik.
"…the most powerful and direct signal of the antisocial and the hypersocial, marking locations, creating zones of safety and danger, and we react to it…"
Wer hat diese Kraft? Der Bass. Behauptet das
WIRE
-Magazin in seiner vorletzten Titelgeschichte: "Low End Theories – WIRE responds to Bass".
"More
felt
than heard, bass connects us to the entire spectrum of music an sonic experience." Wir connecten und responden mit dem Bass: von A wie Art Ensemble of Chicago bis Z wie DJ Zinc. Aber auch von B wie
Beach Boys
bis Y wie
Yes
. Ja, Yes. I heard it through the bassline.
Weitere Ausgaben von Was ist Musik
Playlist
1.
Britney Spears / Big Fat Bass (Intro)
Big Fat Bass (Intro) / Universal

…

2.
The Slits / I Heard It Through The Grapevine
GRLZ – Women Ahead Of Their Time / Crippled Dick Hot Wax

…

3.
SOS Band / Just Be Good To Me
Just Be Good To Me / Tabu

…

4.
Art Ensemble Of Chicago / Theme De Yo Yo
Trip-Tease Vol 2 / Blue Note

…

5.
LFO / LFO
LFO / Warp

…

6.
Shackleton / Hypno Angel
Fabric 109 / Fabric

…

7.
Falty DL / Hardcourage
Hardcourage / Ninjatune

…

8.
Jah Shaka Allstars / Help
Message From Africa / Shaka Music

…

9.
Roots Manuva / Witness (I Hope)
Ten Years Of Big Dada / Big Dada

…

10.
Burial / Etched Headplate
Untrue / Hyperdub

…

11.
Marvin Gaye / Inner City Blues
What's Goin' On / Motown

…

12.
Parliament / Chocolate City
Greatest Hits / Casablanca

…

13.
Sly & The Family Stone / Thank You For Talkin' To Me Africa
There's A Riot Goin' On / Epic

…

14.
Aaron Neville / Hercules
Sehorn Soul Farm / Charly

…

15.
Alice Coltrane / Journey In Satchidananda
Journey In Satchidananda / Impulse

…

16.
Kelis / Milkshake
Milkshake / Virgin

…

17.
Beach Boys / Cool Cool Water
Sunflower / CBS

…

18.
Yes / Yours Is No Disgrace
Yessongs / Atlantic

…

19.
Marco Trovatello / Be Sweet
I Had To Let God Be In Control Of ALL Things / Parallel Schallplatten

…

20.
Talking Heads / Found A Job
More Songs About Buildings And Food / Sire

…