Was ist Musik
Bitte hupen wenn Sie Dub mögen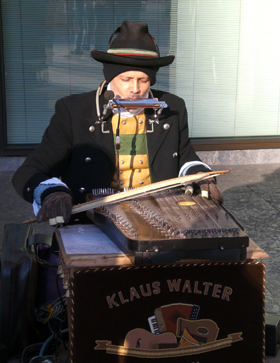 Bitte hupen wenn Sie Dub mögen
Honk If You Like Dub, das fordern
The Kings Of Dubrock
auf ihrem Album Fettuccini und droppen die Namen im Dutzend:
Tapper Zukie, Firehouse,
Cicciolina, Eek-A-Mouse,
Chica Rica,
Yellowman, in da speaker,
Dillinger, Jacques Dutronc,
Dalida, in da Bong.
So geht die vorläufige Mannschaftsaufstellung für die heutige Partie, viel Onomatopoesie: Wa Doo Dem Sleng Teng ZungguZungguZungguZeng.
Und Lee Scratch Perry On The
Wire
. Der hat sich gerade mit The Orb zusammengetan, auf eine Reise zum Richtung Mond, in den Congo und in die Wolken, flauschige und goldene.
Introvertierter dagegen Perrys alter Freund
Adrian Sherwood
, dem Albumtitel zum Trotz: Survival & Resistance. Wiedergeboren wurde der Mann formerly known as
Snoop Dogg
. Eine Reise nach Jamaika, ein Nyabinghi-Priester und Snoop heißt jetzt Snoop Lion und macht Reggae.
Weitere Ausgaben von Was ist Musik
Playlist
1.
The Kings Of Dubrock / Honk If You Like Dub
Fettuccini / Staatsakt

…

2.
Augustus Pablo / Java
Out Of Many - 50 Years Of Reggae Music / VP

…

3.
Lee Scratch Perry / Lee Scratch Perry On The Wire
Lee Scratch Perry On The Wire / Trojan

…

4.
Lee Perry With The Flying Vicars & Sir Freddy Viaduct / Scratch On The Wire
Bugs On The Wire / Loghorn Records

…

5.
The Orb & Lee Scratch Perry / Golden Clouds
The Orbserver In The Star House / Cooking Vinyl

…

6.
The Orb / Little Fluffy Clouds
The Orb's Adventures Beyond The Ultraworld / Wau Mr.Modo

…

7.
The Orb & Lee Scratch Perry / Police And Thieves
The Orbserver In The Star House / Cooking Vinyl

…

8.
Junior Murvin / Police And Thieves
Lee Perry Reggae Greats / Island

…

9.
The Clash / Police And Thieves
The Clash / Epic

…

10.
The Orb & Lee Scratch Perry / Congo
The Orb's Adventures Beyond The Ultraworld / Wau Mr.Modo

…

11.
The Congos / Can't Come In
Heart Of The Congos / Blood And Fire

…

12.
The 2 Bears / Heart Of The Congos
Be Strong / ECB

…

13.
Dub Syndicate / On The Wire
Bugs On The Wire / Loghorn Records

…

14.
Adrian Sherwood / Bossa 2
Survival & Resistance / On-U-Sound

…

15.
Adrian Sherwood / Trapped Here
Survival & Resistance / On-U-Sound

…

16.
Peaking Lights / Tiger Eyes (Adrian Sherwood / On-U Sound Remix)
Remixes / Weird

…

17.
Peaking Lights / Cosmic Tides
Lucifer / Weird

…

18.
New Age Steppers / My Whole World
Action Battlefield / On-U-Sound

…

19.
Neneh Cherry & The Thing / Dirt
The Cherry Thing / Smalltown Supersound

…

20.
Snoop Lion / La La La
La La La / Interscope

…

21.
Ken Boothe & Stranger Cole / Artibella
A Man And His Hits / Studio One

…

22.
Yellowman / Zunggguzungguzungguzeng (Horsepoewer Productions Remix)
Out Of Many - 50 Years Of Reggae Music / VP

…