Was ist Musik Tighten Up Machine Gun

(06.05.2018)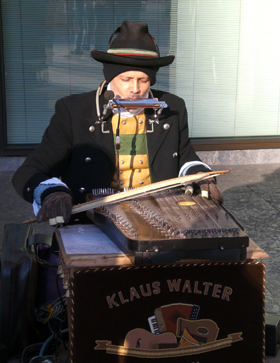 Ausgabe vom 06.05.2018: Tighten Up Machine Gun
Hören
"Man habe es satt gehabt, den Fernseher einzuschalten und zu sehen, dass irgendwo auf der Welt wieder Bullen jungen Leuten den Schädel einschlagen. So hat es Peter Brötz­­mann erzählt. Seine Reaktion war eine sehr aggressive, dezidiert verneinende, unfreundliche Musik: 'Machine Gun', das Album des Peter Brötzmann Octets, im Mai 1968 in der Bremer Kneipe 'Lila Eule' eingespielt, ist aus heutiger Sicht die markanteste Free-Jazz-Einspielung: ein unablässig röhrendes, hämmerndes, schepperndes Etwas."
Das schreibt Felix Klopotek über Peter Brötzmann. Der Jazzkritiker Uli Olshausen ergänzt: "Das Album hatte natürlich eine ganz klare politische Aussage durch dieses Rattern, diese Machine Gun hat man ja nun wirklich gehört. Also wenn von Brötzmann irgendwas über Jazzkreise hinaus rezipiert wurde, dann `Machine Gun´." Andere "Machine Guns": Jimi Hendrix & The Band Of Gypsies, The Commodores.
Meanwhile in the USA. Nummer Eins im Mai 68:
Tighten up! Archie Bell & The Drells. ("Sometimes I wake up in the morning with a bassline, a ray of sunshine"). Die erste Funk-Nummer an der Spitze der US-Charts. Später wird aus "Tighten Up" eine Serie von Reggae-Compilations. Noch später landen die Black Keys einen Hit mit einem anderen "Tighten Up".
Das sagt der Urban Dictionary.
"Tighten up: Prison slang for 'pay attention'.
Can
also be used to tell another inmate to stop goofing off."Yo man tighten up! Don't you see what's about to happen?" #pay attention#wake up#look#listen#settle down
Tighten up:
1. To get your act together. 2. Don't be so loose
Mary: Sarah you should put your clothes on!
Kelly: Yea, Sarah tighten up!
Sarah: Mary you should stop takin it deep!
Kelly: Yea, Mary tighten up!
#antonyms#loose#whore#slut#hoe
Tighten Up
To calm down / loosen up. Typically used when someone is overreacting or in general not being chill.
1. Shakira: AY YO SOMEBODY JUS PULLED ON MAH WEAVE!
2. Mike: Tighten up cuz, ain't nobody pulled on yo weave.
#calm down#chill out#cool it#take it easy#relax"
R.I.P. Jabo Starks. "The Warp Engine of Funk May he Rest In Power Peace go witcha Brutha Jabbo Now give The Drummer some..." (Greg Tate)
Also starring: James Brown, Nazz, Orchestra Harlow, Wally Jump Junior, Yellow Magic Orchestra…
Weitere Ausgaben von Was ist Musik
Playlist
1.
Peter Brötzmann Octet / Machine Gun (Third Take)
Machine Gun / Free Music Production
2.
Peter Brötzmann Octet / Machine Gun (Second Take)
Machine Gun / Free Music Production
3.
Jimi Hendrix & The Band Of Gypsys / Machine Gun
Band Of Gypsys / Polydor
4.
The Commodores / Machine Gun
Machine Gun / Motown
5
Archie Bell & The Drells / Tighten up
Tighten up / Stax
6.
Wally Jump Junior & The Criminal Element / Tighten up / I just can´t stop dancing
Tighten up / I just can´t stop dancing / Planet
7.
Yellow Magic Orchestra / Tighten Up (Japanese Gentlemen Stand Up Please!)
Tighten Up (Japanese Gentlemen Stand Up Please!) / Sony
8.
Nazz / Loosen up
Nazz II. / CBS
9.
James Brown / Soul Power
Soul Power / King