Was ist Musik
Geschichte wird gemacht – Meanwhile in Britain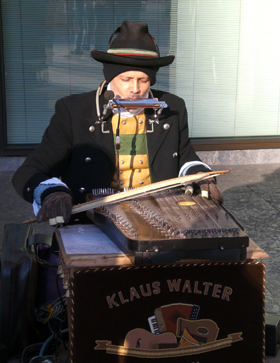 Ausgabe vom 15.06.2020: Geschichte wird gemacht – Meanwhile in Britain
Hören
"Now down in Bristol dem have no pistol /Still dem chased your Babylon away"
Linton Kwesi Johnson: Making History
"At the end of an era
The First thing to go
Are the heads of our leaders
Kicked down in the road..."
The Redskins: Kick Over The Statues
"If you have a racist friend
Now is the time, now is the time for your friendship to end."
The Special AKA: Racist Friend
"When they kick at your front door
How you gonna come?
With your hands on your head
Or on the trigger of your gun?
When the law break in
How you gonna go?
Shot down on the pavement
Or waiting in death row."
The Clash
: Guns Of Brixton
Was können vierzig Jahre alte Songs über die Gegenwart erzählen?
"Racist Friend" zum Beispiel passt nicht schlecht, wenn man wissen möchte, wie woke die politische Popkontrolle bei Facebook funktioniert. Dieser Tage hat FB Tausende von Usern gesperrt, weil sie sich für Ska interessieren. Ska ist nämlich Skinhead-Musik und Skinheads sind Nazis. Redskins? Nie gehört. Unter den Gesperrten war auch Neville Staple, in Jamaika geborener Sänger der Specials.
Gegenwartsfunde: Gaudi und das Theremin, Queen Ifrica: I Can't Breathe. Chungo: "UK Garage Dancefloor Sweltererz"? Keleketla. Dennis Bovell. The Bug & Spaceape.
Weitere Ausgaben von Was ist Musik
Playlist
1.
Gaudi & Mad Professor / Future Sound Of Theremin
100 Years Of Theremin (The Dub Chapter) / Dubmission Records
2.
Gaudi & Dennis Bovell / Cross To Theremin
100 Years Of Theremin (The Dub Chapter) / Dubmission Records
3.
Linton Kwesi Johnson / Licence Fi Kill
Licence Fi Kill / Island
4.
Linton Kwesi Johnson / Making History
Making History / Island
5.
The Clash / Guns Of Brixton (The Bug & Spaceape Remix)
Guns Of Brixton / Bandcamp
6.
The Redskins / Kick Over The Statues
Kick Over The Statues / Polydor
7.
The Special AKA / Racist Friend
In The Studio / Chrysalis
8.
Dub Pistols Feat. Rhoda Dakar / Stand Together
Stand Together / EMI
9.
Rama / Chan Kithe Guzari
Chan Kithe Guzari / Bandcamp
10.
The Streets / I Wish You Loved You As Much As You Loved Him (Featuring Donae'O Featuring Greentea Peng)
I Wish You Loved You As Much As You Loved Him / Island
11.
Bob Vylan / We Live Here
We Live Here / Bandcamp