Was ist Musik
Wir spielen immer nur dasselbe II. – Summertime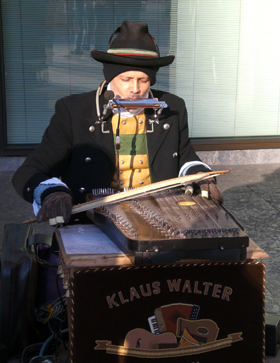 Ausgabe vom 21.12.2020: Wir spielen immer nur dasselbe II. – Summertime
Hören
In der zweiten Folge unserer Reihe Wir spielen immer nur dasselbe orientieren wir uns am Kalender. Der 21. Dezember ist der kürzeste Tag des Jahres und der kalendarische Winteranfang. Wenn die Nacht am tiefsten, ist der Tag am nächsten also, gewissermaßen. Gibt es ein besseres Datum für:
Summertime and the livin' is easy
Fish are jumpin' and the cotton is high
Your daddy's rich and your ma is good lookin'
So hush, little baby, don't you cry
In ihrem Buch "The Meaning Of Soul - Black Music And Resilience Since The 1960s" schreibt die afroamerikanische Autorin Emily J.Lorde über Al Greens Version von "Summertime":
"They woodshedded for months before recording Green's solo debut, Green Is Blues. Released in 1969, when Green was twenty-three, the album is, in all ways, a statement of emergence. Its title alone highlights Green's decision to drop the last "e" from his surname (where
Sam Cooke
had added one to his)—a move designed to diferentiate his past self, that "poor farm boy from Arkansas," from his new image as "a star. A man on his way to somewhere." 20 The songs were chosen to emphasize what the liner notes described as Green's diference from "the usual 'belt it out full blast technique' of today."21 But these recordings, most of them covers, performed both the self-declarative as well as the more subversive function of other covers I have discussed.
The complex meanings of Green's work on his breakout album are especially audible in his recording of "Summertime." Green humbly notes in his memoir that he, Mitchell, and the band "even managed to breathe some new life into that old Porgy and Bess chestnut, 'Summertime,' the hands-down, watch-me-do-my-stuf showboater of all time."22 His performance of the song is remarkable, on one level, simply for how much Green manages to do within the confnes of the four-minute recording: swooping, soaring, halting; ascending to falseto and then combing a word back down though his throat.
23 Green's versatile style conveys multiple personas—he is by turns mournful, sexy, protective, even maternal, insofar as he (like Sly Stone in "Que Sera, Sera") surrogates the mother who sings the song in Porgy and Bess. Other black male artists who had charted with "Summertime"—the doo-wop group The Marcels (1961), Billy Stewart (1966)—had recast the lullaby as a love song. One exception to this rule was Green's idol, Sam Cooke, who recorded the song in 1957 with guitar, drums, and ethereal backing vocals by women singers. Green followed Cooke's afective template, but he sang the song in a much higher register. By enfolding into his own performance the higher voices that hovered above Cooke, Green was restoring some of the range Cooke had ironed out of his own recordings when crossing over from gospel to pop."
Also starring:
Ella Fitzgerald
, Santo & Johnny, Lana Del Rey,
Billie Holiday
, Sublime …
Weitere Ausgaben von Was ist Musik
Playlist
1.
Monty & The Cyclones / Summertime
The First Recordings Of Sir Coxsone The Downbeat 1960-1962 / Trojan

…

2.
Ernest Ranglin / Summertime
Ranglin With Soul / Trojan

…

3.
Fun Boy Three / Summertime Extended 12 Mix
Summertime Extended 12 Mix / Chrysalis

…

4.
Billie Holiday / Summertime
Summertime / Rca

…

5.
Sam Cooke / Summertime
Summertime / Ariola

…

6.
Al Green / Summertime
Green Is Blues / Hi

…

7.
Herbie Mann / Summertime
Summertime / Atlantic

…

8.
Sublime / Doin´ Time
Doin´ Time / WEA

…

9.
Lana Del Rey / Doin' Time
Doin' Time (Single) / Universal

…

10.
Lana Del Rey / Summertime Gershwin Version
Summertime / Universal

…

11.
Albert Ayler / Summertime
Summertime / Blue Note

…

12.
Herbie Hancock Ft. Joni Mitchell / Summertime
Herbie Hancock Play Gershwin / Impulse

…