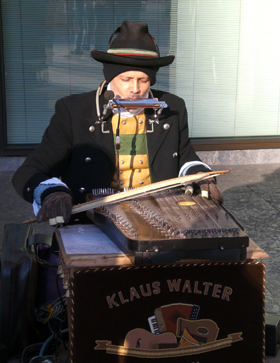 Ausgabe vom 23.08.2009:
Gumbo, Melting Pot & Lollipop – Essen als Metapher im Pop
Eine Oral History
Wenn
Booker T
. & The MG´s den Melting Pot auf den Herd stellen, wenn King Curtis den Memphis Soul Stew ansetzt, wenn die Meters den Jambalaya brutzeln
und Dr.John den Gumbo anrührt, dann steht Southern Soul Food auf der Speisekarte.
Zwischen Memphis und New Orleans, im Süden der USA, lieben sie ihr Essen heiß, scharf und gerne auch fettig. Die Zutaten kommen von überall her. Aus dem Hühnerstall im Hof und aus dem Ozean. Aus dem benachbarten Mexiko, aus der nahen Karibik oder aus Frankreich, dem Land der alten Kolonialherren. Und was in der Küche funktioniert, das klappt auch in der Musik.
Der Melting Pot wird zum Synonym für das friedliche Zusammenleben von Menschen unterschiedlicher Hautfarben, die kreolischen Eintopfgerichte zum Sinnbild: aus den verschiedensten Ingredienzien wird ein wohlschmeckendes Ganzes. Vielleicht mehr Wunschbild als Sinnbild…
Starring: Millie, Gospel Fish,
Der Plan
,
The Meters
,
Al Green
, Tolerantes Brandenburg, Hot Butter, Doc Schoko, Sushi,
Missy Elliott
,
Nina Simone
, Californiae, Rufus Thomas, Eric Kloss,
Isaac Hayes
...
Weitere Ausgaben von Was ist Musik
Playlist
1.
Gallus Von Ochsenpfau / Ochsenmaulsalat
Andere Zeiten Andere Sitten / Carotin

…

2.
Foyer Des Arts / Senf Drauf
Ein Kuss In Der Irrtumstaverne / Fünfundvierzig

…

3.
Brother Jack Mc Duff / Down Home Style
Down Home Style / Blue Note

…

4.
Jr.Walker & The Allstars / Homecooking
Anthology / Motown

…

5.
Rufus Thomas / Soul Food
Do The Funky Chicken / Stax

…

6.
Rufus Thomas / Do The Funky Chicken
Do The Funky Chicken / Stax

…

7.
Rufus Thomas / Do The Funky Penguin
Do The Funky Chicken / Stax

…

8.
Dr. John / Gris Gris Gumbo Ya Ya
Mos Scocious Anthology / Rhino

…

9.
Preston Love / Chicken Gumbo
Preston Love's Omaha Bar- B-Q / Kent

…

10.
Preston Love / Chili Mac
Preston Love's Omaha Bar- B-Q / Kent

…

11.
The Meters / Jambalaya
Good Old Funky Music / Rounder

…

12.
Hank Williams / Jambalaya
40 Greatest Hits / Polygram

…

13.
Eric Kloss / Grits And Gravy
Can You Dig It / Brown Sugar

…

14.
Benny Golson / Fried Bananas
Can You Dig It / Brown Sugar

…

15.
Al Green / Full Of Fire
Full Of Fire / Hi

…

16.
The Prime Mates / Hot Tamales
New Orleans Funk / Soul Jazz

…

17.
King Curtis / Memphis Soul Stew
Star Collection / Midi

…

18.
Leroy Hudson / Butterfat
Everything I Do Is Gonna Be Funky / Brown Sugar

…

Stunde 2 :
1.
Isaac Hayes / Chocolate Chip
Chocolate Chip / Stax

…

2.
Isaac Hayes / Chocolate Chip (Instr.)
Chocolate Chip / Stax

…

3.
Foyer Des Arts / Wolfram Siebeck Hat Recht
Größte Erfolge / Fünfundvierzig

…

4.
Studio Braun / Gelbfleisch
Gespräche / Mercury

…

5.
Californiae / Tasse Kaffee
Ro 3003 / Bungalow

…

6.
Booker T. & The Mg's / Green Onions
Green Onions / Stax

…

7.
Booker T. & The Mg's / Melting Pot
Melting Pot / Stax

…

8.
Booker T. & The Mg's / Mo' Onions
Green Onions / Stax

…

9.
The Blue Mink / Melting Pot
Hits Of The 60's / Trojan

…

10.
Jesse Stone / Crawfish
Roll Your Moneymaker / Trikont

…

11.
Elvis Presley & Kitty White / Crawfish
Hits Like Never Before / Rca

…

12.
Elvis Presley / Hot Dog
Greatest Hits / Rca

…

13.
Burial / In Mcdonalds
Groove MIX Sven Weisemann / Groove

…

14.
Wesley Willis / Rock & Roll Mcdonalds
Rock & Roll Mcdonalds / Discord

…

15.
Mojo Nixon & Skid Roper / Jesus At Mcdonalds
Mojo Nixon & Skid Roper / Enigma

…

16.
Lawrence / Ode To Mouldy Cottage Cheese
Pingipung Plays Piano / Pingipung

…

Stunde 3 :
1.
The Headcoatees / Fish Pie
Fish Pie / Sympathy For The Record Industry

…

2.
Gospel Fish / Punani Fi Smell
Trojan Slack Reggae Box Set / Trojan

…

3
Sushi / Come Into My Bedroom
Come Into My Bedroom / Ariwa

…

4.
Eddie Davis / Mountain Oysters
Rhythm & Blues Nasty / Membran

…

5.
Roy Brown / Lollypop Mama
Rhythm & Blues Nasty / Membran

…

6.
Millie / My Boy Lollipop
Super Schlagerbox / Mercury

…

7.
Lil Wayne / Lollipop
Lollipop / Interscope

…

8.
Nina Simone / I Want A Little Sugar In My Bowl
Private Collection / Music De Luxe

…

9.
Missy Elliott / My Struggles (Ft. Mary J.Blige & Grand Puba
The Cookbook / Elektra

…

10.
Parliament / Chocolate City
Tear The Roof Off / Casablanca

…

11.
Doc Schoko / Eierlikör
Tränen & Wölkchen Ep / Zickzack

…

12.
Tolerantes Brandenburg / Es Regnet Kaviar
Tolerantes Brandenburg / What's So Funny About

…

13.
Foyer Des Arts / Schimmliges Brot
Die Unfähigkeit Zu Frühstücken / Fünfundvierzig

…

14.
Der Plan / Alte Pizza
Der Plan / Atatak

…

15.
Deutsch Amerikanische Freundschaft / Kebabträume
Kebabträume / Mute

…

16.
Hot Butter / Popcorn
Popcorn / Strand

…