Was ist Musik
20 Jahre Hot topic is the way that we rhyme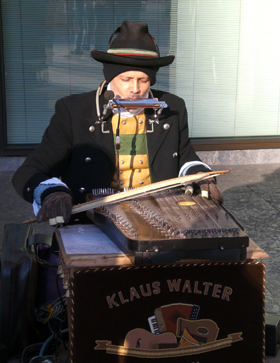 Ausgabe vom 11.11.2019: 20 Jahre Hot topic is the way that we rhyme
Hören
Die Namen von "57 champions of queer feminism" werden gedroppt in "Hot Topic", dem "most joyous song" der Band Le Tigre. Zum 20.Jubiläum droppen wir mit:
Gertrude Stein! Marlon Riggs! Billie Jean King! Ut! DJ Kuttin Kandi! David Wojnarowicz! Melissa York!
Nina Simone
! Ann Peebles! Tami Hart!
The Slits
! Hanin Elias! Hazel Dickens! Cathy Sisler! Shirley Muldowney! Urvashi Vaid! Valie Export! Cathy Opie! James Baldwin! Diane DiMassa!
Aretha Franklin
! Joan Jett! Mia X! Krystal Wakem! Kara Walker! Justin Bond! Bridget Irish! Juliana Lueking! Cecilia Dougherty! Woo, Ariel Schrag! The Need! Vaginal Creme Davis! Alice Gerrard! Billy Tipton! Julie Doucet! Yayoi Kusama! Eileen Myles!
Da stellt sich die Frauschaft von selbst.
Hot Topic
Weitere Ausgaben von Was ist Musik
sarahsahara
vor einem Jahr
sarahsahara
vor einem Jahr
Playlist
1.
Le Tigre / Hot Topic
Le Tigre / Mr.Lady Records

…

2.
Althea & Donna / Uptown Top Ranking
Uptown Top Ranking / Trojan

…

3.
The Slits / Ping Pong Affair
Cut / Virgin

…

4.
Phranc / Gertrude Stein
Positively Phranc / Island

…

5
Phranc / Take Off Your Swastika
Positively Phranc / Island

…

6.
Phranc / Tipton
Positively Phranc / Island

…

7.
Billy Tipton / The Man I Love
The Man I Love / CBS

…

8.
Ann Peebles / I Can't Stand The Rain
I Can't Stand The Rain / Hi

…

9.
Nina Simone / Four Women
Anthology / Sony

…

10.
Peaches / Fuck The Pain Away
Fuck The Pain Away / Kitty Yo

…

11.
Aretha Franklin / You Make Me Feel Like A Natural Woman
Queen Of Soul / Rhino

…

12.
Joan Jett / I Hate Myself For Loving You
Upper Alley / RCA

…

13
Half Girl / Lemmy I'm A Feminist
Lemmy I'm A Feminist / Staatsakt

…