Was ist Musik
Ich habe die Zukunft des R&B gesehen und sie ist w ...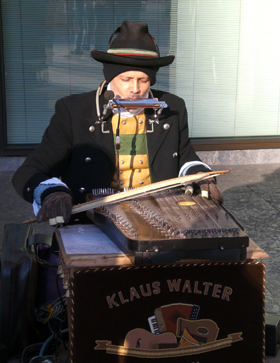 ... eiblich"? Breitbeiniger Auftrumpfsprech dieser Art ist gut für die Reichweite, das wusste Jon Landau schon 1974 ("I saw rock and roll's future and its name is
Bruce Springsteen
."). Weniger breitbeinig könnten wir davon reden, dass gerade auffallend viel zukunftshaltiger, zukunftweisender oder zukunftsträchtiger R&B (im weiteren Sinn) von nichtmännlichen Künstlerinnen produziert wird. Sie heißen
Greentea Peng
,
Little Simz
,
Jamila Woods
,
Cooly G
, Fiyahdred, Alewya, Blck Mamba, Loraine James und, äh, Cosey Fanni Tutti.
Weitere Ausgaben von Was ist Musik
Playlist
1.
Fiyahdred / Tumpin´
Anyway / Hyperdub

…

2.
Cooly G / We can find love too (feat. Ruth Brown)
We can find love too (Ft. Ruth Brown) / Hyperdub

…

3.
Cooly G / Save Me (feat.Marcus Damon)
Save Me / Hyperdub

…

4.
Fiyahdred / Da Mellowdee
Anyway / Hyperdub

…

5.
Fiyahdred / Anyway (Do it)
Anyway / Hyperdub

…

6.
Blck Mamba / What U Gonna Do (feat. Rouge)
What U Gonna Do (w/Rouge) / Future Bounce

…

7.
Blck Mamba / Baby Got Juice (feat. Magugu)
Baby Got Juice (w/ Magugu) / Future Bounce

…

8.
Swindle / What more (feat. Greentea Peng)
Swindle / Brownswood

…

9.
Little Simz / Two worlds apart (Smokey
Sometimes I might be introverted / PIAS

…

10.
Smokey Robinson / The agony and ecstasy
Quiet Storm / Motown

…

11.
Little Simz / Point and kill (Ft.Obongyajar)
Sometimes I might be introvert / PIAS

…

12.
Pa Salieu & Obongjayar / Style and Fashion
Style and Fashion / Sony

…

13.
Celeste / Love is back
Love is back / Universal

…