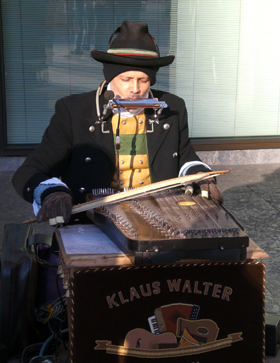 London 1980. An den Wänden in Blutrot-Grün Plakate für "Searching For The Young Soul Rebels" und das graue Mausoleum von "Closer" -
Ian Curtis
hatte sich gerade aufgehängt.
The Fall
im Marquee Club bei 40 Grad, die
Young Marble Giants
in einem CVJM, "Colossal Youth" gekauft, heißer Sommer.
33 1/3 Jahre später. Week-End Festival in Köln: The Fall, Young Marble Giants,
Robert Forster
with String Quartet conducted by Jherek Bischoff, mit Songs der
Go-Betweens
.
Grant McLennan ist bald sieben Jahre tot,
Grant Hart
hat ihn überlebt - der von der anderen großen Robert & Grant-Band, auch er spielt beim Week-End.
Neil Young
kommt nicht, hat aber gerade ein Album mit Songs aus seiner Jugend rausgebracht. "Old man take a look at my life, I'm a lot like you were".
"I'm not a young man any more", singt
Lou Reed
. Ist Alt das Neue Jung?
Die Week-End-Veranstalter Jan Lankisch und Jörg Waschat über Retrophilie, Vernetzung, Lebenswerk und ihr sehr spezielles Festival.
http://www.weekendfest.de/
Präsentiert von ByteFM.
Weitere Ausgaben von Was ist Musik
Playlist
1.
Young Marble Giants / Colossal Youth
Colossal Youth / Rough Trade

…

2.
The Fall / Sir William Wray
Re-Mit / Rough Trade

…

3.
The Fall / How I wrote Elastic Man
How I wrote Elastic Man / Rough Trade

…

4.
The Pastels / I´m alright with you
I´m alright with you / Creation

…

5.
The Pastels / Wrong Light
Slow Summits / Domino

…

6.
The Go-Betweens / Karen
The Able Singles / Able

…

7.
Robert Forster / Danger in the past
Danger in the past / Rebel Rec.

…

8.
Robert Forster / Baby Stones
Danger in the past / Rebel Rec.

…

9.
Robert Forster / 25-41
25-41 / Beggars Banquet

…

10.
Grant Hart / 25-41
25-41 / SST

…

11.
Grant Hart / Shine Shine Shine
The Argument / Domino

…

12.
Hüsker Dü / Diane
Metal Circus / SST

…

13.
Beißpony / Diane
Brush Your Teeth / Chicks on Speed

…

14.
Vampire Weekend / Diane Young
Modern Vampieres of the city / XL

…

15.
Young Marble Giants / Credit in the straight world
Colossal Youth / Rough Trade

…

16.
Young Marble Giants / Music for evenings
Colossal Youth / Rough Trade

…

17.
Kolossale Jugend / Alle Feind
Leopard II / L´Age D´Or

…

18.
Age Of Chance / Kiss
Kiss / Fon

…

19.
Younghusband / Constantly in love
Dromes / Sonic Cathedral

…

20.
Young Fathers / No way
Dead

…

21.
Roots Manuva / Stolen youth
Stolen youth / Big Dada

…

22.
Junior Murvin / Lucifer
Police and thieves / Mango

…

23.
Junior Murvin / Police and thieves
Police and thieves / Mango

…

24.
Neil Young / Old Man
Live at the cellar door / Reprise

…