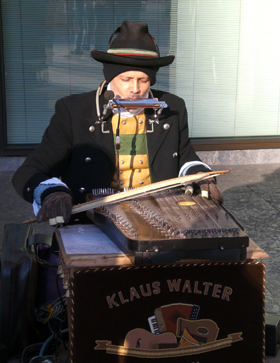 "Ghosts Outside" heißt ein Album von Steve Mason und Dennis Bovell. Briten beide, ansonsten nicht viel gemeinsam. Mason war Sänger der Beta Band, bitte hier nicht aufhören zu lesen, Beta Band war besser als ihr Ruf.
Nicht viele weiße Briten versuchen, den einsamsten Hit des wunderbaren
Harry Nilsson
in eine R&B/
HipHop
-Mini-Oper zu überführen. Und scheitern ehrenhaft. "Ghosts Outside" also. Kommt raus ziemlich genau 30 Jahre nach "Ghost Town" von den Specials. Number One in UK, the loneliest Number. "The most culturally significant UK No.1 of all time" meint Uncut.
Ein Nummer Eins Hit wie ein Polaroidfoto. Abgeschossen und getroffen, die Situation in den Geisterstädten des neuen Thatcher-Regimes. All the clubs have been closed down, zu viele Kämpfe auf den Straßen, Brixton und Toxteth brennen. Bei Hyperdub beziehen und besinnen sie sich auf "Ghost Town",
The Specials
und ihr Label Two Tone. Überhaupt: die rip-it-up-and-start-again-Jahre, 78-84, immer wieder, in den Townships Südafrikas, nicht nur der Funk, auch
Joy Division
.
Starring: Quasi Dub Development,
Wiley
,
Roots Manuva
,
Andrew Weatherall
,
Miles Davis
, King Midas Sound,
Beastie Boys
ft.
Santigold
…
Weitere Ausgaben von Was ist Musik
Playlist
1.
Steve Mason & Dennis Bovell / Understand My Dub
Ghosts Outside / Domino

…

2.
Dennis Bovell / Roots Symphony
Dubmaster / Jamaican Gold

…

3.
Steve Mason / All Come Down
All Come Down / Domino

…

4.
Steve Mason & Dennis Bovell / Lost And Dub
Ghosts Outside / Domino

…

5.
Beta Band / Won
Squares/Won / EMI

…

6.
Nilsson / One
Aerial Ballet / RCA

…

7.
Orange Juice / I Guess I'm Just A Little Too Sensitive
Orange Juice / Postcard

…

8.
Bovell / Lovers Rock
Dub Master / Jamaican Gold

…

9.
Steve Mason & Dennis Bovell / Dub Outside
Ghosts Outside / Domino

…

10.
Steve Mason / Boys Outside
Boys Outside / Domino

…

11.
Steve Mason / Boys Outside (Andrew Weatherall Dub)
Boys Outside / Domino

…

12.
Toddla T. & Roots Manuva / Watch Me Dance (Andrew Weatherall Dub)
Watch Me Dance / Ninjatune

…

13.
Spoek Mathambo / Control
Control / Warp

…

14.
DJ Mujava / Township Funk (Mark Pritchard's Version Excursion)
Township Funk / Warp

…

15.
Africa Hitech / 93 Million Miles
93 Million Miles / WARP

…

16.
Africa Hitech / Do You Wanna Fight
93 Million Miles / WARP

…

17.
The Specials / Ghost Town
Ghost Town / Two Tone

…

18.
Kode 9 & Spaceape / Ghost Town
5 Years Of Hyperdub / Hyperdub

…

19.
King Midas Sound / Earth Will Kill Ya (Mala Remix)
Earth Will Kill Ya / Hyperdub

…

20.
Roots Manuva / Watch Me Dance
Toddla T. & Roots Manuva: Watch Me Dance / Ninjatune

…

21.
Wiley / Information Age
100% Publishing / Big Dada

…

22.
Wiley / 100% Publishing
100% Publishing / Big Dada

…

23.
Beastie Boys / Don't Play No Game That I Can't Win (Ft.Santigold) Major Lazer Mix
Hot Sauce Committee Part Two / EMI

…

24.
Quasi Dub Development / Horn Therapy
Limousine To The Guillotine / Rump Recordings

…

25.
Miles Davis / Final
Ascenseur Pour L´Échafaud / Fontana

…

26.
Quasi Dub Development / A Rudder Flu
Limousine To The Guillotine / Rump Recordings

…