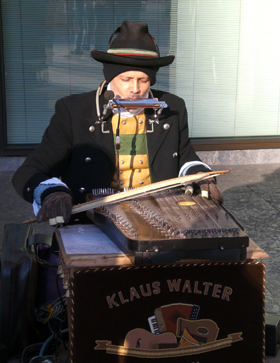 Ausgabe vom 11.01.2009: Free At Last
Free At Last
"First of all, I am a real Minimalist, because I don't do very much. I know some minimalists
who
call themselves minimalist but they do loads of minimalism. That is cheating. I really don't do very much."
Robert Wyatt
Unter "Wyatting" versteht man die soziale Praxis, Kneipengäste mit der Wahl sonderbarer Lieder aus der Jukebox zu verärgern.
Bevor er Minimalist und Jukebox-Aktivist wurde hat Robert Wyatt bei
Soft Machine
Schlagzeug gespielt und gesungen. Vielleicht war er der erste Nichtsänger-Sänger Englands. Jedenfalls ging und geht er mit seiner Stimme anders um, als der große Rest. Da haben Leute wie Green Gartside (
Scritti Politti
) oder
Alexis Taylor
(
Hot Chip
) bei ihm gelernt.
Seit 35 Jahren ist Wyatt Solokünstler und begehrter Gastsänger – Working Week, Michael Mantler, Ultramarine,
Paul Weller
,
Billy Bragg
– nur ein paar Namen.
Seit 35 Jahren lebt Wyatt im / mit dem Rollstuhl, nach einem Fenstersturz. Was heißt das für seine Kunst? Für sein Singen? Gebrochenes Rückgrat, gebrochene Stimme? Gebrochene Männlichkeit? Schwierige Fragen.
"Rock against sexism? That`s like omelettes against eggism!" Sagt Wyatt.
Gerade sind die gesammelten Soloalben von Robert Wyatt wiederveröffentlicht worden. Ein Grund, den Mann zu würdigen.
Heute zu zweit. Mit Frank Witzel, Schriftsteller und Musiker aus Offenbach am Main. Zusammen mit Thomas Meinecke haben wir 2004 das Gesprächsbuch "Plattenspieler" rausgebracht.
Starring:
Barbara Morgenstern
, Geno Washington,
Ryuichi Sakamoto
,
The Raincoats
, Tom Liwa, Dexy´s Midnight Runners, Bertrand Burgalat,
Brian Eno
,
John Cale
,
Chic
– und wie fast immer: Herr Köhncke (thank you for the musik)
Weitere Ausgaben von Was ist Musik
Playlist
1.
Robert Wyatt / At Last I Am Free
Nothin Can Stop Us / Domino

…

2.
Science 2103 / At Last I Am Free (Dub)
At Last I Am Free / Science

…

3.
Wilde Flowers / Memories
Memories / RCA

…

4.
Soft Machine / Pataphysical Introduction
Out-Bloody-Rageous – Anthology 1967-1973 / Sony

…

6.
Soft Machine / Hibou Anemone & Bear
Out-Bloody-Rageous – Anthology 1967-1973 / Sony

…

8.
Robert Wyatt / Rangers In The Night
Miniatures / PIPE

…

9.
Soft Machine / Hullo Der
Out-Bloody-Rageous – Anthology 1967-1973 / Sony

…

10.
Jimi Hendrix & Robert Wyatt / Day Tripper
Day Tripper / Rare

…

11.
Matching Mole / Starting In The Middle Of The Day We Can Drink Our Politics A way
Little Red record / Sony

…

12.
Matching Mole / O Caroline
Matching Mole / Sony

…

14.
Masha Qrella / To Mr.Wyatt
Luck / Monika

…

Stunde 2 :
1.
Chic / At Last I Am Free
C´est Chic / Atlantic

…

2.
Hot Chip & Robert Wyatt / Made In The Dark
Made In The Dark / EMI

…

3.
Bertrand Burgalat & Robert Wyatt / This Summer Night (Hit Chip Remix)
This Summer Night) / Domino

…

4.
Ultramarine / Kingdom
United Kingdoms / Blanco Y Negro

…

5.
Hood / The Lost You
Outside Closer / Domino

…

6.
Robert Wyatt / Gharbzadegi
Old Rotten Hat / Domino

…

7.
John Coltrane / A Love Supreme
A Love Supreme / Impulse

…

8.
Robert Wyatt / I'm A Believer
EP´s / Domino

…

9.
Robert Wyatt / Yesterday Man
Rarities / Domino

…

Stunde 3 :
1.
Tom G. Liwa / At Last I Am Free
Wanna Buy A Bridge / Aus Lauter Liebe

…

2.
Science 2103 / At Last I Am Free (Club)
At Last I Am Free / Science

…

3.
Robert Wyatt / Sea Song
Rock Bottom / Domino

…

4.
Nick Mason ft. Robert Wyatt / The Mineralist
Ficticious Sports / EMI

…

5.
Karen Mantler / The Official Robert Wyatt Fanclub Song
The Official Robert Wyatt Fanclub song / www.mantler

…

6.
Robert Wyatt / 5 Black Notes And 1 White Note
Ruth Is Stranger Than Richard / Domino

…

7.
Robert Wyatt / Shipbuilding
EP´s / Domino

…

8.
Elvis Costello & The Attractions / Shipbuilding
Punch The Clock / F-Beat

…

9.
Soft Machine / Moon In June
Out-Bloody-Rageous – Anthology 1967-1973 / Sony

…