Was ist Musik
Queen Bey on Planet Hyper Mu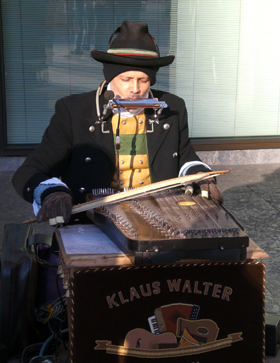 2013 hat sich bestätigt: die aufregende Musik zur Zeit entsteht an den Rändern, in den Nischen – und ganz oben. Bei den Super Rich Kids (
Frank Ocean
) und den Leuten mit der Superpower (
Beyoncé
& Frank Ocean). Zum Jahresende überrascht die bessere Hälfte des African American Power Couple No.2 (Sonja Eismann) mit einem neuen Album. Die erwartbaren Sound-Updates in Richtung Dub-&Bro-Step funktionieren besser als erwartbar, ebenso die erwartbaren Gastspiele von
Drake
(okay) und Frank Ocean (superp…). Unerwartet der Auftritt der nigerianischen Autorin Chimamamanda Ngozi Adichie, dazu mehr in der Beyoncé-Würdigung von Emily J.Lordi in der Village Voice (>>). Längst raus aus der Nische sind Hyperdub und Planet Mu. Die beiden englischen Labels haben auch 2013 die Palette der Bassmusiken erweitert und vertieft und am transatlantischen Bass-Kontinuum gearbeitet, auf der Achse London-Chicago-Kapstadt, Dubstep-Footwork-Jivestep(?), dafür stehen die Namen RP Boo, DJ Rashad und The John Wizards. Der Name
Burial
steht heute, so Pitchfork (>>) für alles, bloß nicht für "sounds like Burial". Die Hyperdub-Artistinnen
Jessy Lanza
, Laurel Halo und
Cooly G
. werden gerne als Beleg für die steile These genommen, dass 2013 ein Jahr der Frauen war, in der elektronischen Musik.
Village Voice
Beyoncé's Boundaries
by Emily J. Lordi | special to NewBlackMan (in Exile)
Debates about Beyoncé's feminism are at heart about us: what are we to do with her? Embrace, reject, some of both? These questions help us determine where we stand on important issues. They are less helpful in illuminating what Beyoncé herself has made. Here I want to highlight the texture and richness of her new album, which abstract terms like "feminism"
can
obscure.
In my view, the major contribution of BEYONCÉ is that it depicts a black woman artist
who
has lived her life in front of cameras and who, in the spectacular way she does most things, is claiming the right to her own rich, complex imaginative landscape—one that can be just as dark and twisted and fantastic as any male artist's, in addition to being fun and self-critical and maternal and sad. We need to attend to the details to see this.
Perhaps it should not surprise us that an album with a song called "Partition" near its center is fundamentally concerned with borders and boundaries. BEYONCÉ is about testing, respecting, and dissolving borders between different facets of the self; between sound and vision; fantasy and reality; artist and public; the bodies of lovers; mother and child; sincerity and satire; provocative rachetness and plain old bad taste.
If Beyoncé's 2008 album I Am… Sasha Fierce bifurcated "Beyoncé" into two personae—good girl and bad diva—this album integrates myriad identities under the banner of a holistically multifaceted BEYONCÉ. As Joan Morgan might put it, this work "fucks with the grays."
Beyoncé's lyrical poetry blurs the edges between words. What goes up ghosts around, she sings in "Haunted," where I'm haunting you becomes I'm onto you, just as rocket will slide into rock it and drunk in love will slur into drunken love. The slightest variation can make all the difference, as when the pageant judge in "Haunted" blunts all the flair of "Beyoncé" by dropping the last syllable of her name. This is one of the album's many instances of naming, a device that signals the artist's multiplicity. She is alternately identified as "Miss Third Ward," "Yoncé," a member of the Star Search team "Girls Tyme," and the three identities that Blue Ivy Carter voices in the album's last moments: Beyoncé ("Bee-sa-yay"), "Mommy," and "Mrs. Carter."
Individual songs likewise contain multiple identities. "Haunted" is a Boots production in two parts; slippery as a ghost, it keeps playing with time, subdividing and protracting the beat. The first and second movements of "Flawless" are divided by the partition of Chimamanda Adichie's sampled speech on feminism. Complexity is a compositional and a performative principle here. Foregoing her usual vocal pyrotechnics, Beyoncé integrates her vocals into the overall mix.
She hews to the limited range of the Drake song and accommodates Frank Ocean's adolescent sound. (This is a gracious move and a confident one: she knows we know what she can do.) In place of virtuosity—the "pretty" that the first song critiques—we get versatility: Beyoncé's Vanity-6-inspired "Blow"; spare chromatic drama a la Lana del Rey in "Heaven"; a weirdly unsupported
Kate Bush
sound in "Blue"; subtle Caribbean stylings on "XO"; and the stunningly intricate D'Angelo tribute "Rocket."
Which brings me to the sex. Sex is the most obvious terrain on which Beyoncé challenges boundaries between self and other: Goddammit I'm comfortable in my skin… and you're so comfortable in my skin. If I never expected to see so much of Beyoncé's own skin in all my life, nor do I experience her self-exposure as self-revelation. What I do find new and rather moving is her call to "all the grown women out there" in "Blow." This is one of those rare moments in pop music where it is cool for women to be grown.
But being grown here is not only about the edgy sex. It is also about insisting on fun and eroticism in a relationship that has passed its first bloom. This is why it matters that "Drunk in Love" features
Jay-Z
: it allows us to interpret the song as being about a long-term married couple working to keep the spark alive. The representation of sex on this album is also grown, of course, in that it results in a child. Here is a scenario we are not accustomed to seeing: the married-with-children couple that has hot, sometimes drunken sex.
The sex can distract from the humor. Whereas we embrace the quirky oddball humor along with the eroticism of male artists like D'Angelo and
Prince
(and countless rappers), Beyoncé's offbeat humor is scarcely legible as such. Hence critics debated the feminism of this year's "Bow Down" without seeming to note its hilarity—the way the ultra-bass sound parodied masculine swagger and the accompanying photo made Beyoncé's catty lyrics at least partly tongue-in-cheek: you better bow down to me, surrounded as I am by my dynasty of plastic trophies.
This album amplifies the screwball humor that has sounded around the edges of Beyoncé's work ever since Destiny's Child sang about their "automo-bills." Witness the wacky Frank Ocean-esque repetition of the already awkward word "surfboard" in "Drunk in Love," as well as lines like I woke up like this, you're drivin me cray… cray, and my personal favorite: I sneezed on the beat and the beat got sicker.
If humor softens the boundaries between the star and the people, the album also engages the tension between Beyoncé's populist conceit and her exceptional status. This tension is apparent in the video for "No Angel." Like the musical tracks that embed her vocals in the rest of the mix, this video sets Beyoncé into a social landscape of which she is not the main focus. In place of the sex scene the lyrics describe, director @Lilinternet features Houston residents and rap icons. Beyoncé sings, underneath the pretty face is something complicated. The video makes that "something" not just the Dirty South but also the superstar's complicated relationship to it.
If the young Beyoncé accepted her pageant crown with a shout-out to her city—"I love you Houston"—the grown Beyoncé does not interact with anyone there. At once underdressed and overdressed in lingerie and a big white fur coat, she is clearly alienated from the "home" to which this video is also a love letter.
Some of the videos are less interesting than the songs. "Drunk in Love" looks like every other sexy black-and-white beach video you've ever seen, except that it offers a rare glimpse of Beyoncé dancing awkwardly—a fact for which she vigorously compensates in the next video by dancing fiercely while wearing roller skates. But in general the videos complicate and enrich the already multidimensional music. A wholly unexpected riot in "Superpower" turns Obama's "
yes
we can" campaign slogan into the rallying cry of dystopic rebellion.
The video for "Partition" frames the hot sex as the daydream of a woman whose partner won't even acknowledge her across the breakfast table. After all the wet of waterfalls, ocean, liquor, arousal, "Mine" documents a dry season of fire, sand and clay. Through images of burning and lovers' identity-erasing white hoods, the video asks where we draw the line between claiming and enslaving each other. The video for "XO," the best song
Arcade Fire
never recorded, makes the anthem even more irresistible: here a fully-clothed Beyoncé romps through Coney Island, finally having uncomplicated fun with others.
She explores another environment in "Blue," a video with a nostalgic, Instagram aesthetic set in Brazil. Despite the title, Beyoncé's own child is not the focus but is rather the catalyst for Beyoncé's appreciation of the wider world. When I look in your eyes, I feel alive. Blue opens her mother to newness: to learning new dances from kids and humbly practicing them in public (in a gesture that also authenticates her dance moves as coming "straight from the source").
Beginning with a mother's oppressive advice to her daughter and ending with the word "Blue," BEYONCÉ tests the bonds and boundaries between parents and their children. The last song extends a matrilineage and hopes to break a pattern.
Sexuality is an important and compelling part of all this, but when we fixate on the sex we replicate the very problem this album is designed to expose: that it is still so hard for a black woman artist to be seen as deeply sexual and as a range of other things—intellectual, creative, maternal, virtuosic, self-critical, egotistical, and hilarious. When Beyoncé claims all this brilliant complexity she issues a challenge that is also a gift, whether you want to call it feminist or not.
***
Emily J. Lordi is an assistant professor of English at the University of Massachusetts, Amherst and the author of the just published Black Resonance: Iconic Women Singers and African American Literature (Rutgers UP, 2013). Her music and film reviews have appeared in New Black Man (in Exile), The Feminist
Wire
, and The New Inquiry. She is working on a new book on soul.
Mehr zu Beyoncé: http://www.taz.de/!129694/
TAZ Christian Werthschulte
Footwork-Musik aus Chicago
Ideal für fantastische Verrenkungen
Irre schnell und präzise kollagiert: Footwork-Musik aus Chicago, ein Hybrid aus House und Bass, hält Tänzer auf dem Dancefloor in Bewegung.
Wenn es so etwas wie eine einfache Wahrheit über die komplizierten Verästelungen von Popmusik gibt, dann diese: Ohne Fehler funktioniert sie einfach nicht. Neuestes Beispiel: Footwork, diese Chicagoer Housespielart, die seit drei Jahren die Blaupause für die Mutationen der international vernetzten Bassmusikszene ist.
Erfunden hat Footwork der Produzent RP Boo (Record Player Boo alias Kavain Space). Obwohl "erfunden" eigentlich so ganz richtig nicht ist. RP Boo kaufte sich irgendwann einen gebrauchten Drumcomputer, auf dem noch Sounds vom Vorbesitzer gespeichert waren. Die Bedienungsanleitung war auch nicht mehr vorhanden und so programmierte er einfach drauflos, bis ihm, der Mitglied in einer
HipHop
-Tanzcrew war, das Ergebnis gefiel.
Und so entstand Footwork, dieser Mensch-Maschinen-Hybrid, bei dem die auf 160 bpm hochgeschraubten Beats gemeinsam mit den stotternd-repetitiven Vocalsamples zu den fantastischsten Verrenkungen führten. Kein Produzent verkörpert die ungeschriebenen Gesetze von Footwork besser als RP Boo.
…. Gemeinsam mit seinem Partner DJ Spinn ist Rashad Harden so etwas wie der Botschafter von Footwork im internationalen Lo-Fi-Dance-Jetset geworden. Anstatt von Dancebattles zwischen der Chicagoer West Side und South Side erzählt er heute von MDMA-erfüllten Glücksmomenten in Londoner Clubs. "Double Cup", sein neues Album, ist beim Londoner Label Hyperdub erschienen, erste Adresse des Bass-Kontinuums. Und ebenso wie Hyperdub ist auch Rashad daran interessiert, die Gesetze eines Genres umzuschreiben anstatt sie zu befolgen. Schon seit einiger Zeit verzierte er die ratternden Beats von Footwork mit feingliedrigem Samplelametta aus der Disco-, Soul und Housegeschichte.
Aber nun hat er seine plunderfonischen Streifzüge perfektioniert. Gleich zu Beginn seines Albums sampelt DJ Rashad ein divenhaftes "Let me show you how" und schon schrauben sich die Vocals in Sphären, wo sie miteinander Purzelbäume schlagen. Der Chicagoer Produzent schüttet ein Füllhorn aus Euphorie auf seinem Album aus. Immer wieder versteigen sich seine Vocalsamples zu einem "Higher", das dem Himmel gefährlich nahe kommt.
Unterstützt werden sie dabei von Rashads Synthesizern. Mal kommen sie als reduzierter, kickender Instrumentalstab daher, ein anderes Mal blitzt in ihnen die Freude an der entgrenzten Modulation auf. Dann wieder zitiert Rashad die extrovertierte Tiefenentspannung früher G-Funk-Produktionen. Hinter all diesen Zitaten steckt nicht nur eine gut sortierte Plattensammlung, sondern das Wissen um die Effekte von Sound…
Mehr: http://www.taz.de/Footwork-Musik-aus-Chicago/!127922/
Pitchfork
Burial
Rival Dealer EP
Hyperdub; 2013
Few electronic artists from the last decade have been pigeonholed like William Bevan. Since the London producer behind Burial gained widespread attention with 2007's epochal second album, Untrue, listeners and critics alike have spoken of "the Burial sound"—pitched-down vocal samples, rustling noise, blocky garage rhythms in perpetual decay—as if it were straight gospel. This is partially Bevan's fault: four years passed before any new solo material saw release, which allowed plenty of time for Untrue's singular aura to seep into the collective consciousness. As imitators big and small have lined up to pay respect, the phrase "sounds like Burial" escaped the connotation of wishful thinking and started sounding almost like, well, an insult.
Insulting because, as this decade so far has proven, one person who doesn't sound like Burial anymore is Burial himself. 2011's Street Halo EP, which followed a 12" collaboration with
Four Tet
, offered a few engaging structural tweaks to Untrue's formula, but it was the collab EP with
Massive Attack
that followed later in the year, "Four Walls" b/w "Paradise Circus", that hinted Bevan was ready to explore truly new territory. Essentially a pair of Burial edits of songs from Massive Attack's 2010 LP Heligoland, each cut pushed past the 11-minute mark and embraced a proggy, amorphous structure that was worlds away from the contained environments of previous Burial releases. If the Massive Attack edits suggested a shift away from the past, 2012's astounding pair of EPs, Kindred and Truant/Rough Sleeper, broke free of any previously set constraints, as Bevan wielded his newfound appreciation for side-long track lengths and added splashes of sonic color—arpeggiated synths, chunky house motifs, rickety windchimes, bursts of beatific melody—to his established palette of blues and grays.
Mehr: http://pitchfork.com/reviews/albums/18820-burial-rival-dealer-ep/
Weitere Ausgaben von Was ist Musik
Playlist
1.
RP Boo / Steamidity
Legacy / Planet Mu

…

2.
Cooly G / Hold Me
Hold Me EP / Hyperdub

…

3.
Beyoncé / Superpower
Beyoncé / Warner

…

4.
Jessy Lanza / Fuck Diamond
Pull My Hair Back / Hyperdub

…

5.
Laurel Halo / Oneiro
Chance Of Rain / Hyperdub

…

6.
Cooly G / Oi Dirty Feat. DVA
Hold Me EP / Hyperdub

…

7.
Beyoncé / Haunted
Beyoncé / Warner

…

8.
Beyoncé / Flawless
Beyoncé / Warner

…

9.
Beyoncé / Blow
Beyoncé / Warner

…

10.
DJ Rashad / Feelin'
Double Cup / Hyperdub

…

11.
DJ Rashad & DJ Manny / I Don't Give A Fuck
Rollin EP / Hyperdub

…

12.
RP Boo / No Return
Legacy / Planet Mu

…

13.
RP Boo / 187 Homicide
Legacy / Planet Mu

…

14.
The John Wizards / Lushoto
The John Wizards / Planet Mu

…

15.
The John Wizards / Muizenberg (Seeji Remix)
Muizenberg / Planet Mu

…

16.
Four Tet / My Angel Rocks Back And Forth
Rounds / Domino

…

17.
Four Tet / Buchla
Beautiful Rewind / Text

…

18.
Burial & Four Tet / Wolf Cub
Wolf Cub / Text

…

19.
Burial / Rival Dealer
Rival Dealer / Hyperdub

…

20.
Burial / Come Down To Us
Rival Dealer / Hyperdub

…